KIDS ARE THE FUTURE
Identification with a brand in childhood can build a lifetime of loyalty. But we at Babolat don't just want our brand to be cool and attractive to the youth market, we also want to make sure our products are scientifically good for juniors' development.
Based on biomechanical research, input from our global network of coaches and from internal experts, Babolat has developed a new range of shoes and tennis racquets for kids and junior players that not only takes into account their body shape and the way they move, but also protects their health.
Never before has a brand conducted such extensive research to develop products that are tailor-made for kids between four and eight years of age, and juniors ranging from eight through to 12 or 13 years of age.
'Kids and juniors have really become a priority for the company as they embody the future of tennis,' said Marion Cornu, Babolat's Group Marketing Manager Tennis. 'Our ambition is not only to be the No 1 brand in the juniors and kids category, but to be the most inspiring and fun brand in that market everywhere in the world.'
Mindful of the fact that tennis can be a tough sport to learn, and that there is also a lot of competition from other sports and activities such as gaming, Babolat is on a mission to make tennis cool again, and more accessible, for the next generation. In order to achieve this goal, we have made the process of learning the game of tennis easier for kids.
Juniors' movement during growth
As there wasn't a lot of data available on products for young beginners, we enlisted the help of the Inter-University Laboratory of Human Movement Biology (LIBM) in Lyon, France, which conducts research on physical activity and sport, health, performance and prevention.
LIBM measured more than 200 children and came to the conclusion that boys and girls between the ages of four and 12 grow at the same pace on average. Therefore, there was no need to make different products for boys and girls.
Real racquets for young players
Children who use a product that is specifically tailored to their growing bodies will be able to play longer with less energy and more enjoyment.
Our research led to three major changes that could positively impact the game for kids and juniors: we changed grip sizes and string patterns, and also introduced an additional size.
'A lot of coaches, all over the world, told us that with every brand, the grip sizes are too big for kids, which was confirmed by the studies we conducted,' said Cornu. Babolat's 2021 Drive Junior range, which was launched in October 2020, now comes with a smaller grip size, which gives young players more easy power, and puts less strain on their developing muscles.
In addition, our Drive Junior range has been equipped with a new 16×17 string pattern, as opposed to the customary 16×19 string pattern that had been standard in both kids and adult racquets.
'By removing strings from the racquet, we enhance the trampoline effect of the string bed, giving young players more power and more forgiveness, continued Cornu.
We also added an extra size to our racquet offerings. Kids' racquets are generally 17 inches to 26 inches, with certain in-between sizes missed out. In order to avoid a big transition from a size 23 to a size 25 racquet, which can sometimes slow down juniors' progress at around the age of 9, we created a 24-inch graphite composite frame for both our Drive Junior and Strike Junior racquets.
We used the same approach to improve our shoe range for budding tennis stars.
In order to boost the natural development of young sporting feet, Babolat's Junior Pulsion shoe shoe now comes with a more flexible sole and soft upper material, a more cushioned heel to reduce heel shock and a new last with a drop adapted (5 mm instead of 10 mm).. And thanks to its "Easy feet" system, which makes it easier for kids to put on their own shoes, parents no longer have to spend time tying up shoelaces.
Rafa & co as 'learning buddies'
Every child loves a hero, so we have turned our champions Rafael Nadal, Dominic Thiem, Felix Auger-Aliassime, Garbiñe Muguruza and Amanda Anisimova into cartoon mascots. These 'learning buddies' can be found on the face cards of new Babolat racquets, while parents struggling to find the right size racquet for their children can use a point-of-purchase 'Measure yourself to Rafa' mascot in store to find the correct model.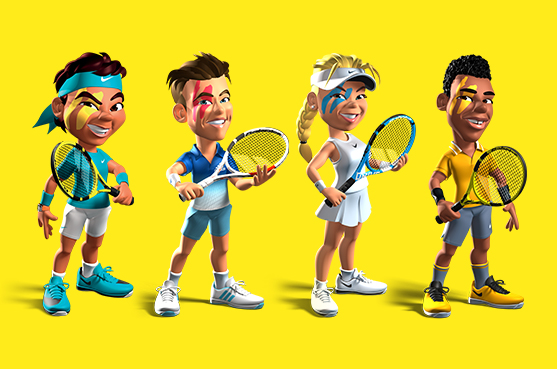 In order to make life easier for both parents and coaches, Babolat has produced 100 short educational videos that will be available in the kids' section of our website as from the beginning of 2021The one-minute films will offer tips and ideas to help kids and juniors on their learning journey, as well as specific drills and practice exercises, depending on the age group and also the size of the court.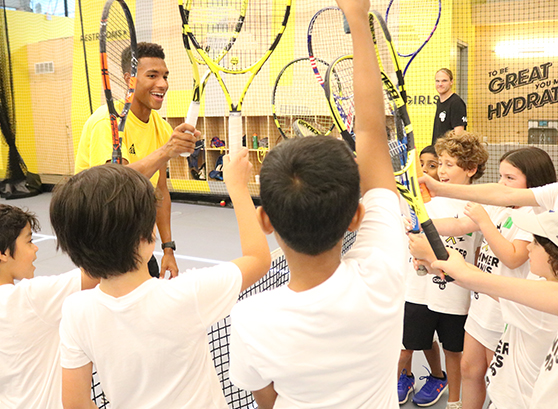 Our global approach to our kids and junior segment can also be seen in our association with Court 16, the first tennis club remixed for kids in New York City, with 1,000 members. The first Babolat Kids Lab was inaugurated there in August 2019 in the presence of Auger-Aliassime, and now serves as a testing ground for new products, prototypes and trends.
Court 16 'is a fantastic base and great way to watch kids in their environment, to gain insight into how kids play, what they like and don't like, and to gain insight and to fuel the development of innovation,' said Cornu.
'In the end, it's all about helping kids discover tennis, and learn tennis in a more fun and easier way,' she concluded.